Birthday Parties & Field Trips
Ready To Plan Your Next Party or Class Trip?
Look no further than The Science Center!
We at the Science Center offer birthday parties for both members and non-members.
Curious as to what is in a Birthday Party Package at The Science Center? Look Below for more information on our Birthday Party Packages!
Included in Our Birthday Party Package:
Access to Our Private Party Room for Two Hours
All Day Access to the Museum for You and Your Guests
Freezer & Refrigerator Provided
Party Fees Cover up to 20 Children (Adults are Free!)
Enjoy an Activity of Your Choice Lead by Our Popular Program Director
A 15% Off Coupon for Party City
A 15% Off Coupon for Larry's House of Cakes
Wanting a birthday party with more than 20 children? A small fee of $6 is added per child.
Adding an additional program is a $35 fee.
Having an After-Hours Party is an additional $25 per half hour, and $50 per hour.
Our Birthday Party Programs
*Activities with this symbol indicate a messy experiment!
Smocks and old clothes are strongly encouraged
Is your class looking for its next field trip? Look no further than The Science Center
Schools in the
Carbondale, IL
area are welcome to have field trips at The Science Center any weekday of the year. We have a hands-on museum that has a wide variety of exhibits available for all ages. Build tall skyscrapers in our Creation Station, learn how to fly an airplane, or check out one of our numerous other exhibits. These exhibits explore the topics of magnetism, air power, sound, anatomy, food, weather, and so much more! We also have a variety of critters such as Rosie the Tarantula, Tom Cruise the Chinchilla Rabbit, and Reptar the Iguana! With the wide variety of activities available, The Science Center is the perfect spot for your classes next field trip!
We offer programs that allow your visit to the museum to be enhanced. Schedule a WOW Science show where kids can participate in the show! The show includes our famous Air Cannon or our popular Hovercraft! If you are looking for a more hands-on experience, we also offer activities including making slime, exploring volcanoes, and even creating their own paper.
We at The Science Center are also able to create custom programs, with a small fee and prior notice.
Guidelines for Field Trips
We require that school groups have an adequate number of adult chaperones in order to maintain the safest possible environment.  Factors considered are the nature of the trip, age of children, and location.  Field trips require a minimum of 10 children.
Elementary Field Trips: The Science Center requires that all Elementary trips (Grades Pre-K through 5th) have a minimum of a 7 to 1 student to chaperone ratio.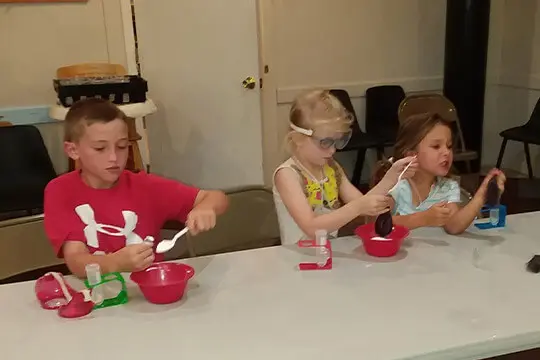 Secondary Field Trips: The Science Center requires that grades 6th – 8th have a minimum of a 10 to 1 student to chaperone ratio. For grades 9th-12th we require a minimum of 15 to 1 student to chaperone ratio.
Chaperones are required to remain on-site to actively supervise ALL students in their care.
We do ask that your group arrives on time, as we do have other groups utilizing The Science Center so we must maintain a timely schedule. Late arrivals may result in the inability to accommodate certain programming for your group. Also, no food or beverages are allowed in The Science Center. The only exception is water in a spill-proof container.
Due to the large volume of field trips that come to The Science Center, the lunchroom/classroom may be unavailable for eating. Arranging a reservation prior to your visit can help ensure that you have access to the classroom.  Due to the large number of requests, we receive, we may not be able to accommodate all requests. In addition to our rules mall management no longer allows eating lunches in the hallway outside of The Science Center. At this current time the mall does not have any available dining facilities.
FIELD TRIP $3.00 PER STUDENT
FIELD TRIP + A PROGRAM $6.00 PER STUDENT
Chaperone admission to The Science Center is free with field trips. Please bring the proper number of chaperons for your group's specific size.
Disciplinary Procedures
Sometimes, it is necessary for our Science Center staff to step in and ensure the safety and welfare of all our guests.
1st Offense: Asked to stop the inappropriate conduct.
2nd Offense: Reminder of The Science Center's rules.
3rd Offense: Asked to go sit on the "time-out" bench, which is located in the front of The Science Center.
Repeated Violations: Our staff reserves the right to refuse service to you and your group.
* This program is not always available as we treat our animals with the best possible care. If one of our animals is shedding, we may not bring that animal out to reduce stress on the animal. Feel free to ask us any questions involving our animal program. Also make sure to let our staff know of any allergy or health concerns for your students. We will try out best to accommodate your group!
Ready to Plan Your Next Party or Field Trip?