Welcome to the Science Center
Located in Carbondale, Illinois for over 25 years
The Science Center is a hands-on children's museum. We are a regular destination for camps, field trips and birthday parties!  We also offer Grown Up's Night Out (GUNO), a mini camp on the third Friday of each month so parents can have a night out.
Our facility is dedicated to the awareness and exploration of hands-on learning for children ages infant-teens. We're happy to see you taking an interest in everything the Science Center has to offer!
Our Mission
"To nourish and preserve each child's innate curiosity through hands-on, inquiry-based exploration"
The Science Center is a member of the Association of Science and Technology Centers (ASTC) and features reciprocal memberships with over 380 other museums across the country.
* THE Science Center is a recognized 501(c)3 Not-for-Profit organization and is made possible by the generous contributions of our community members.
General Admission
• Infants 2 & Under are Free.

• We offer our Military and Senior Citizen discounts!
Membership
• Covers Entry for One Full Year.

• Free entry for up to 8 family members.

• Discounts on Birthday Parties, Camps, GUNO, and More!.



History of The Science Center
Carbondale, Illinois
We were originally incorporated in 1992 and opened our doors two years later. Our overall goal was to encourage and inspire children to develop a natural curiosity and exploration through hands-on experience. We currently have over 65 exhibits and can expect around 70,000 visitors annually.
We also can help your business, charity organizations and locals with:
• EXHIBIT DESIGN & BUILDING
• SCULPTURE SERVICES
• ANIMAL ENCLOSURES
Connie Adams
Museum Director
Bill "Dino Guy" Adams
Director of Exhibits
Abby Vance
General Manager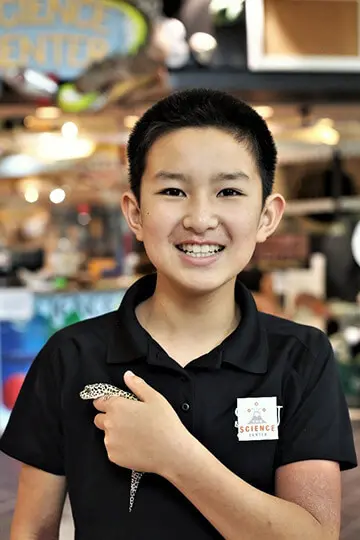 Francis Bu
Junior Curator
Our Covid-19 Membership Extension Policy:
ALL memberships were paused on March 14th of 2020. They have all been reactivated as of June 10th, 2021.
Covid-19 Safety & Health Precautions
We have been following the most up to date CDC and IDPH guidelines and recommendations to ensure the health and safety of our visitors. We ask that you please review the following information before arriving for your visit at the Science Center.
Facemasks are currently optional at The Science Center, although they are highly encouraged.
Please use the nearest hand-sanitizer station or wash your hands before you enter the center and begin your visit. Continue to sanitize after each exhibit.
If you are experiencing cold or any flu-like symptoms, STAY HOME.
All visitors will be asked to use hand sanitizer upon entry.